You may have caught wind of how we have been attending meetings and have been busy gathering and sharing your views and our feedback on the design of a new Autism Health Care Pathway for South Glos and Bristol. Last month in December we attended the Community Child Health Partnership's launch of the pathway alongside Bristol Parent Carers and Bristol Autism Support. We spoke to consultants, community paediatricians and other professionals about our parent's perspectives and experiences of the diagnosis process and what is important for them to remember when communicating with us. Check out the PowerPoint of key points we shared here.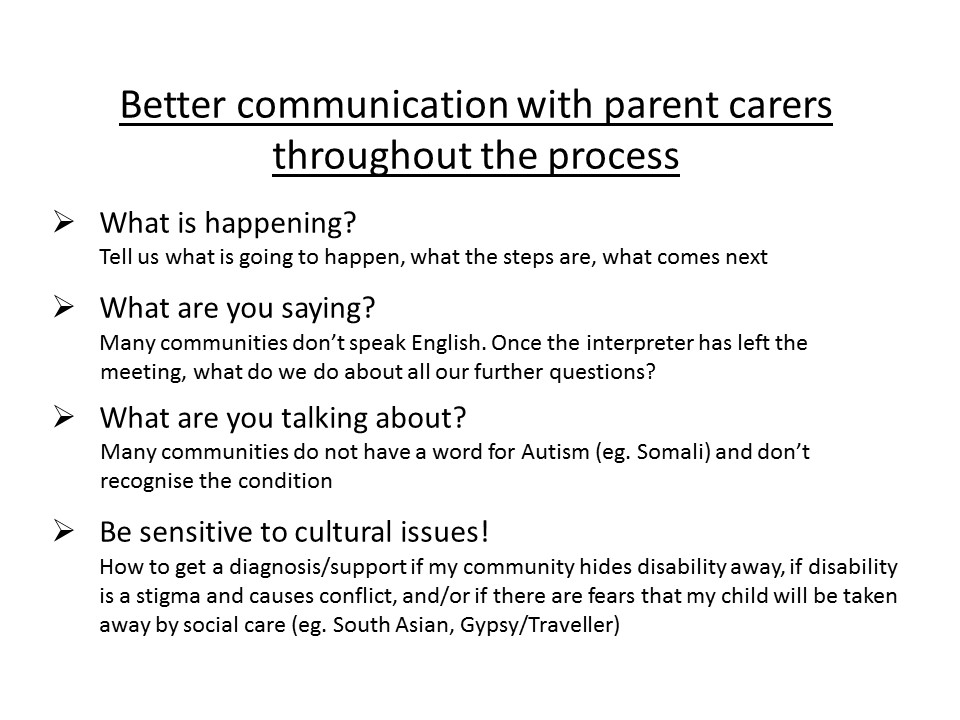 The key highlights of CCHP's pathway are:
It maps out what parents can expect from recognition of symptoms through to referral and structure and management of the assessments.
It has been developed using updated NICE Guidelines and feedback from families (A big thank you to you for your feedback!)
Aims to bring greater consistency to the service families receive from Health across Bristol and South Glos (You have been asking for this!)
Highlights the importance of transparency and joint decision making between professionals and with families throughout the process. (Absolutely needed)
Clarifies the start and end point of an Autism Diagnostic Assessment. (We know this is important to you)
Recognises that children and young people do not all need the same amount of assessment and so outlines a standard assessment and additional elements for more complex cases (Yes!)
Concentrates on the parts of the service that Health delivers, so does not comment on Education etc.
The Pathway alongside a more detailed document for Professionals that families can also read and access will be available online soon on the CCHP website, we will keep an eye out and let you know when it is.
We have felt heard and so are hopeful that the new pathway will see improvements for families in their experiences, and with all new things it can take time to embed, but as always we are here should there be an issue that you want to share, do keep in touch, come and see us for a cuppa or keep in touch over social media. We will keep communicating with Health your views and needs.